Emsculpt Neo, the latest generation of Emsculpt technology, offers improved body-contouring results in the form of simultaneous muscle toning and fat reduction. With Emsculpt Neo at Skin Tight Med Spa, you can sculpt your abdomen, contour your thighs, and more.
Fatty tissue not only makes a person self-conscious, it also gets in the way of effective exercise. Emsculpt Neo provides incredibly effective muscle contraction without any need for standard exercise routines. It also melts away subcutaneous fat, making it easier to exercise and maintain your post-treatment figure.
Is Emsculpt Neo Right for Me?
Emsculpt Neo treatment is an ideal option for patients who have experienced unsatisfactory muscle-toning and fat-reduction results from regular dieting and exercise.
This non-invasive procedure is suitable for patients with a BMI (Body Mass Index) of 35 or below. Patients with a low BMI who are specifically interested in the muscle-building aspect of Emsculpt Neo can also benefit from this treatment.
Note that Emsculpt Neo is not a weight-loss procedure. Instead, it is specifically intended for spot reduction of excess fat and strengthening of muscles.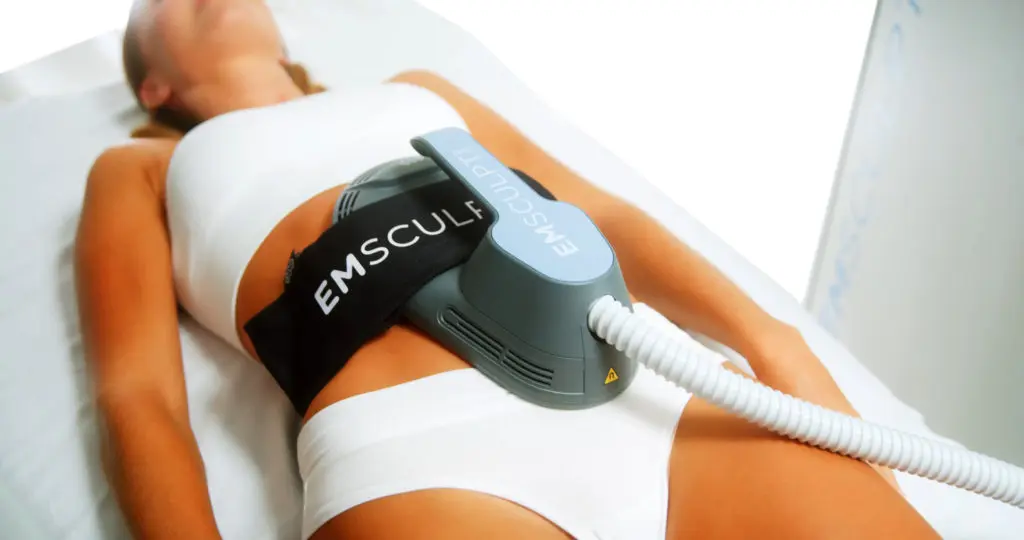 Which Areas of the Body Can Be Treated?
If you're looking for abdominal fat reduction and abdominal muscle toning, Emsculpt Neo is an excellent option. This treatment can also tone and strengthen the muscles of the hips and thighs, torso, arms, and legs.
How Does It Work?
This non-surgical body-sculpting procedure utilizes two different types of energy to achieve its results. Its HIFEM+ (High-Intensity Focused Electromagnetic) energy causes intense contraction of muscle fibers. This contraction is far greater than the muscle contraction achieved through a regular workout session.
The intense contractions of muscles cause muscle cells and fibers to grow in number and strength, building muscle tissue. The average result of this aspect of the treatment is a 25% increase in muscle volume.
Radiofrequency (RF) energy causes a rapid increase in the temperature of the muscle tissues and the excess fat. Increased muscle temperature makes muscles better prepared for intense contractions. Increased fat temperature destroys an average of 30% of the subcutaneous fat cells in the region.
After this fat-cell death (apoptosis) has occurred, the body gradually and safely filters out the dead cells through natural processes. This results in a reduction in volume of the treated areas.
Not sure if Emsculpt Neo is Right For You?
Speak with one of our medspa professionals to discuss the best path toward a healthier new you!
What Is an Emsculpt Neo Treatment Like?
There is no need to prepare in any way for your Emsculpt Neo treatment session. Because the procedure is completely painless and non-invasive, anesthesia is not utilized.
The session typically only takes 30 minutes. During the procedure, the Emsculpt Neo applicator is placed on the targeted area. Intense muscle contractions take place, and the targeted region is heated. This heat feels similar to a hot stone massage.
Typically, four treatment sessions are required to help patients achieve optimal results. Patients will need to wait five to ten days between each session.
After Your Emsculpt Neo Treatment
Once your Emsculpt Neo treatment session is complete, no downtime or recovery process is needed, so you will be able to go right back to your daily activities. In contrast, many other treatments are inconvenient and require taking time off from work.
The results of this procedure are gradual. After the final treatment session has taken place, patients will see their final results in around three months.
How Much Does Emsculpt Neo Cost?
The price of Emsculpt Neo is determined by the med spa you choose for your treatment. The cost of the procedure is impacted by the number of treatment sessions required.