The Power of Semaglutide
Semaglutide is a once-per-week injectable prescription medication that could be the ally you've been looking for in your fight against weight regain. Born from scientific research and approved by the FDA, this treatment curbs your appetite and enhances your feeling of fullness, steering you towards a healthier lifestyle.
No More Struggling with Stubborn Weight
No More Overwhelming Hunger Pangs
No More Heightened Risk of Chronic Conditions
No More Feeling Drained
No More Negative Self-Image
No More Complicated Regimens and Restrictive Dieting
And no more going at it alone when you get your treatments with Skin Tight MedSpa!
Your Roadmap to a Healthier You!
Our approach to treatment involves a carefully calibrated regimen. We initiate the therapy with a low dosage, progressively escalating it over a span of 16-20 weeks. This gradual increase allows your body to adjust to the medication and optimizes the treatment's effectiveness. On average, our patients who embark on the Semaglutide journey have experienced a significant weight reduction, shedding an average of 15% of their body weight.
But let's be clear—Semaglutide isn't a magic wand. It's a powerful tool in your health and wellness toolkit, but achieving the best results demands commitment. You should be prepared for at least three months of treatment to experience optimal outcomes.
The journey involves consistent, scheduled visits to our Medspa, where we administer it weekly and meticulously monitor your progress. This constant oversight ensures you're on track to reach your health goals and allows us to adjust your treatment plan as needed.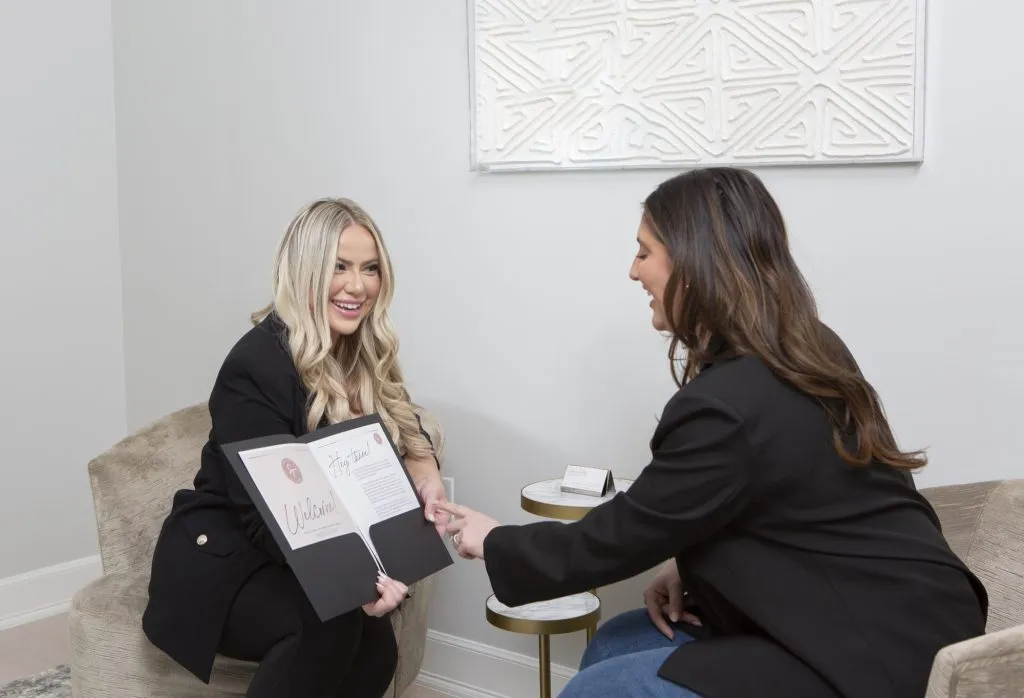 How It Works
At Skin Tight MedSpa, we're not just invested in your weight loss—we're invested in your overall health journey. Here's how it works:
Schedule Your Free Consultation: Our medical team will design a personalized Semaglutide treatment plan tailored to your specific needs and health goals, ensuring the best possible outcome.
Start Your Personalized Treatment Plan: Our medical team will design a personalized Semaglutide treatment plan tailored to your specific needs and health goals, ensuring the best possible outcome.
Witness Your Transformation: Start your Semaglutide treatment and witness the transformative effects on your body and life while our team is to support and care for you every step of the way.
Remember: With Semaglutide, you're not just losing weight – you're gaining health, vitality, and a new sense of self-confidence!
Witness Real Results With Semaglutide
At Skin Tight MedSpa, we pride ourselves on delivering real, tangible results to our clients. But don't just take our word for it, see for yourself how Semaglutide can transform lives.
"I've experienced life-changing results with Sema. I lost just over 14 lbs with minimal nausea and found the whole process surprisingly easy. I feel and look more like 24 and less like 44. Also, my skin is better and I actually sleep better. I struggled for weight loss for far too long. Thank you."

Arianna D.
Andover, MA
Your transformation could be our next success story. Start your journey with Semaglutide and Skin Tight MedSpa today by booking your free consultation to see if Semaglutide is right for you!
Trust in the Expertise of Our Team
When you choose us as your partner in your weight management journey, you're choosing a team of dedicated medical professionals committed to your success. We don't merely provide you with a prescription; we offer comprehensive guidance, personalized advice, and continuous support to ensure that you achieve your health goals.
Every step you take will be supported by our expertise and compassion, turning challenges into achievements and fostering a sustainable, healthier lifestyle. We take pride in celebrating your victories and helping you navigate any hurdles along the way.
At Skin Tight MedSpa, we're not just here to guide you. We're here to celebrate each step toward a healthier, happier, and more confident you!
Not sure if Semaglutide is Right For You?
Speak with one of our medspa professionals to discuss the best path toward a healthier new you!
FAQ