The Power of Tirzepatide
Tirzepatide is a once-per-week injectable prescription medication, a potential game-changer for individuals with type 2 diabetes and obesity. Pioneered from cutting-edge research, Tirzepatide not only aids in regulating blood sugar levels but also facilitates weight loss.
No More Frustration with Elevated Blood Sugars
No More Battles with Excessive Weight
No More Increased Risk of Diabetes-related Complications
No More Feeling Out of Control
No More Damaging Self-Perception
No More Complex Medication Schedules and Strict Diets
And no more walking this path alone when you choose treatments with Skin Tight MedSpa!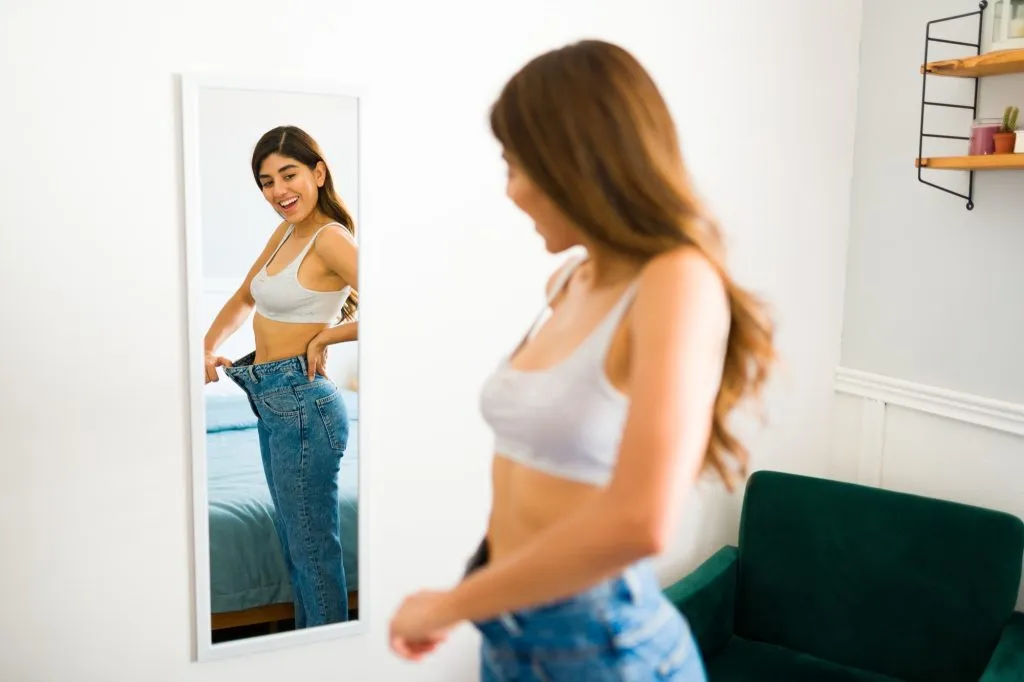 Your Roadmap to a Healthier You!
Our treatment plan with Tirzepatide is thoughtfully structured. Starting with a modest dosage, we gradually escalate it over months to ensure your body's effective adaptation. Most of our clients have reported substantial weight loss, with an average weight reduction of 11% of their initial weight.
However, understand that Tirzepatide isn't a miracle cure. It's a formidable ally in your health journey, requiring dedication and commitment. Expect at least three months of treatment to witness favorable results.
Your therapeutic journey includes regular visits to our MedSpa, where Tirzepatide is administered weekly. We vigilantly observe your progress, ensuring you are on track and making necessary modifications to your treatment.
---
How It Works
At Skin Tight MedSpa, we're not only focused on your weight loss but your holistic well-being. The Tirzepatide journey entails:
Schedule Your Free Consultation: Our proficient medical team crafts a Tirzepatide plan specifically for your health goals.
Embark On Your Customized Treatment Plan: Witness the specialized care we put into structuring your Tirzepatide regimen.
Experience Your Metamorphosis: Begin your Tirzepatide regimen and observe the transformative effects, while we support you throughout.
With Tirzepatide, the transformation isn't just physical – it's an awakening to a healthier, vibrant, and more self-assured you!
---
Witness Genuine Results With Tirzepatide
At Skin Tight MedSpa, we are committed to offering tangible, impactful outcomes to our clientele. Experience for yourself the life-changing power of Tirzepatide through testimonials of our satisfied clients.
"I've been on Tirzepatide for some months, and the results are astonishing. My blood sugar levels are stable, and I've lost significant weight. I feel revitalized, younger, and more energetic. This treatment has truly changed my life."

Jon B.
Acton, MA
Your incredible transformation could be our next testimonial. Embark on your Tirzepatide journey with Skin Tight MedSpa today!
---
Trust in the Expertise of Our Team
Choosing us is selecting a passionate team of medical experts dedicated to your health aspirations. We provide more than just a prescription; it's about comprehensive guidance, tailored advice, and unwavering support.
Every move you make is backed by our vast knowledge and genuine care. We're here to rejoice in your successes and guide you through any obstacles.
At Skin Tight MedSpa, our purpose isn't merely to guide but to celebrate every stride towards a healthier, joyful, and confident version of you!
Not sure if Tirzepatide Injections is Right For You?
Speak with one of our medspa professionals to discuss the best path toward a healthier new you!
FAQ